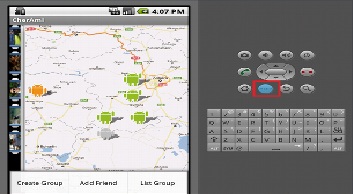 CherAmi Panel
Our product is named "Cher Ami" bird accepted as fourth heroic animal in history which has remarkable story behind it. Also, metaphorical features exist between the heroic bird and our product. Briefly, during World War I, On October 3, 1918, Charles Whittlesey and more than 500 men were trapped in a small depression on the side of the hill behind enemy lines without food or ammunition. However, with the help of pigeon Cher Ami, they accomplished to survive. How great is that?
Overview
Secure Messaging and Location Tracking project can be called as a messenger program being run on smart phones (Android operating systems) and having the feature of enabling users to see the positions of each other on a map. All the information shared within the group is encrypted.
Customization
CherAmi built like a framework, but still retains the unique feel that comes with custom design work. This is because it's built with basic formatting options, along with custom display features.
Update Deliveries
We're constantly upgrading our themes and improving on them with functionality and error solutions. We also make sure to keep our themes up to date with the latest version of your CMS.
features
Content is highly widgetized and widgets come styled.
Many changeable content options.
Template options for Droid, iPhone and Blackberry.
Typical phone display with photo gallery option.
Display a video in placement of the phone display.
All text is real, meaning it's great for SEO.
Display can also be positioned right with the sidebar.
Sidebar is widgetized, and can also be turned off completely.
Custom pages included. Tour, Products, Pricing, and more.